Regular price
$209.00 USD
Regular price
Sale price
$209.00 USD
Unit price
per
Sale
Sold out
In stock
This frame requires a 165 Raised Heel boot.

It is NOT compatible with UFS or Powerslide Trinity boots. Not sure? Click here.
The Endless 110 Frame is a precision machined, multi-setup frame designed specifically for high speed and agile cruising using 180 mm compatible freeride skates.  We believe it is the highest performance 4x110 urban frame on the market.  If you are looking for the ultimate in urban cruising, or you are a skater with a very large boot size, then you will love this frame.
We recommend this frame for supportive boots with 180 mm mounting.  If you do not see your skate listed in the Compatible Boots section below, then please email us a photo of the bottom of the boot with the frame removed for us to verify the mounting interface.
Features
Multiple setups: 4x110, 3x125
Balanced Rocker for 4-wheel setup
Enchanced Flat configuration for 3x125 setup

Has a very subtle micro-rocker - feels like a worn-in flat setup
Compatible with bullet profile wheels only

Internally bridged for stiffness
Recommended for Intermediate and Advanced skill levels with supportive boot
Recommended for boot sizes 42 (270 mm foot length) and above
Mounting: 180 mm (*may not be compatible with all boots - ask if you don't see your skate listed)

Boot should have fully threaded 7-hole mounting plates for best centering
Compatible boots: FR1, FR2

(2016 and newer)

, FR3, Seba Trix 2, Seba High Light (Carbon, V2), Seba iGoR, Flying Eagle F6/F7, Flying Eagle Drift, Micro Delta F (carbon cuff); 7-hole mounts; Rollerblade Twister Edge*, Rollerblade RB*
Not recommended for: FRW, FRX, FR2 (2015), Seba GT, Seba Trix (5-hole), Powerslide Hardcore Evo, Rollerblade Metroblade, Micro MT Plus, Micro Delta (plastic cuff); 5-hole mounts; UFS boots

*165 mm mounting is possible using round hole in rear, but frame will be rear-biased on skates that do not have 7-hole plates.  The frame will NOT be perfectly centered with 165 mm mounting.  However, this additional hole works well for Rollerblade Twister Edge and RB boots, which inherently have forward biased mounting.

Wheelbase: 333 mm

Brake compatibility: FR 3W 110/125 Heel Brake

One frame set includes: 2 frames and 8 axles
CNC-machined from 6061-T6 aluminum
Weight = 368 grams, without spacers and axles
Shipping info

New orders will ship in 3-5 business days when in stock. If out of stock in our store please check with our dealers who often have them available.
Need help choosing a frame?
Have a question?

Check out our FAQ and Help page. We have an extensive knowledge base of help articles. You can also click the help icon in the lower right hand corner of this page.
Pre-order info

If this product is allowing pre-orders, visit this this link to learn about how our pre-orders work. We don't require any payment up front and only take payment when shipping.
Frame Lock compatible

This frame is compatible with our patent pending Frame Locks.
Boot compatibility

There are three primary mounting standards: 165 raised heel, UFS, and Trinity. It's important to know which mounting interface your boot has so that you can choose the correct Endless frame. These three mounting types are not interchangeable with one another. In other words you cannot fit a Trinity frame to a UFS boot, nor can you fit a UFS frame to a 165 raised heel boot.
Brake compatibility

We recommend the following Powerslide Urban Brakes:

Endless 80 / 84

4x80: Powerslide Urban Brake Size S (908058/1)
4x84: Powerslide Urban Brake Size M (908058/2)
3x100: Powerslide Urban Brake Size L (908058/3)

Endless 90 / 90 LR

4x90: Powerslide Urban Brake Size M (908058/2) - may require modification
3x110 Powerslide Urban Brake Size L (908058/3), FR Skates 3W Brake (FRBRK-3W)

Endless 100 - not recommended with brakes

4x100: Powerslide Urban Brake Size L (908058/3)
3x110: none
Share
View full details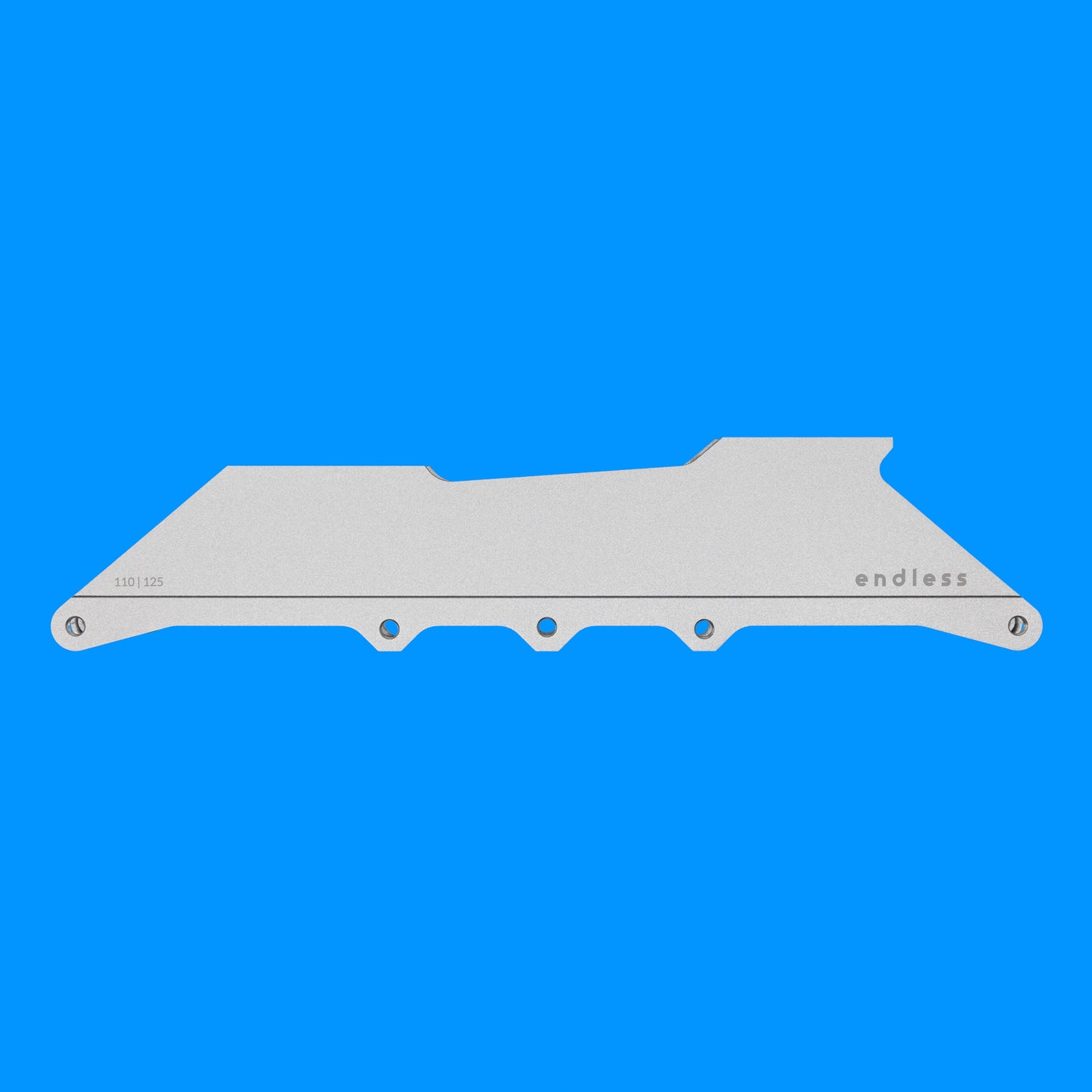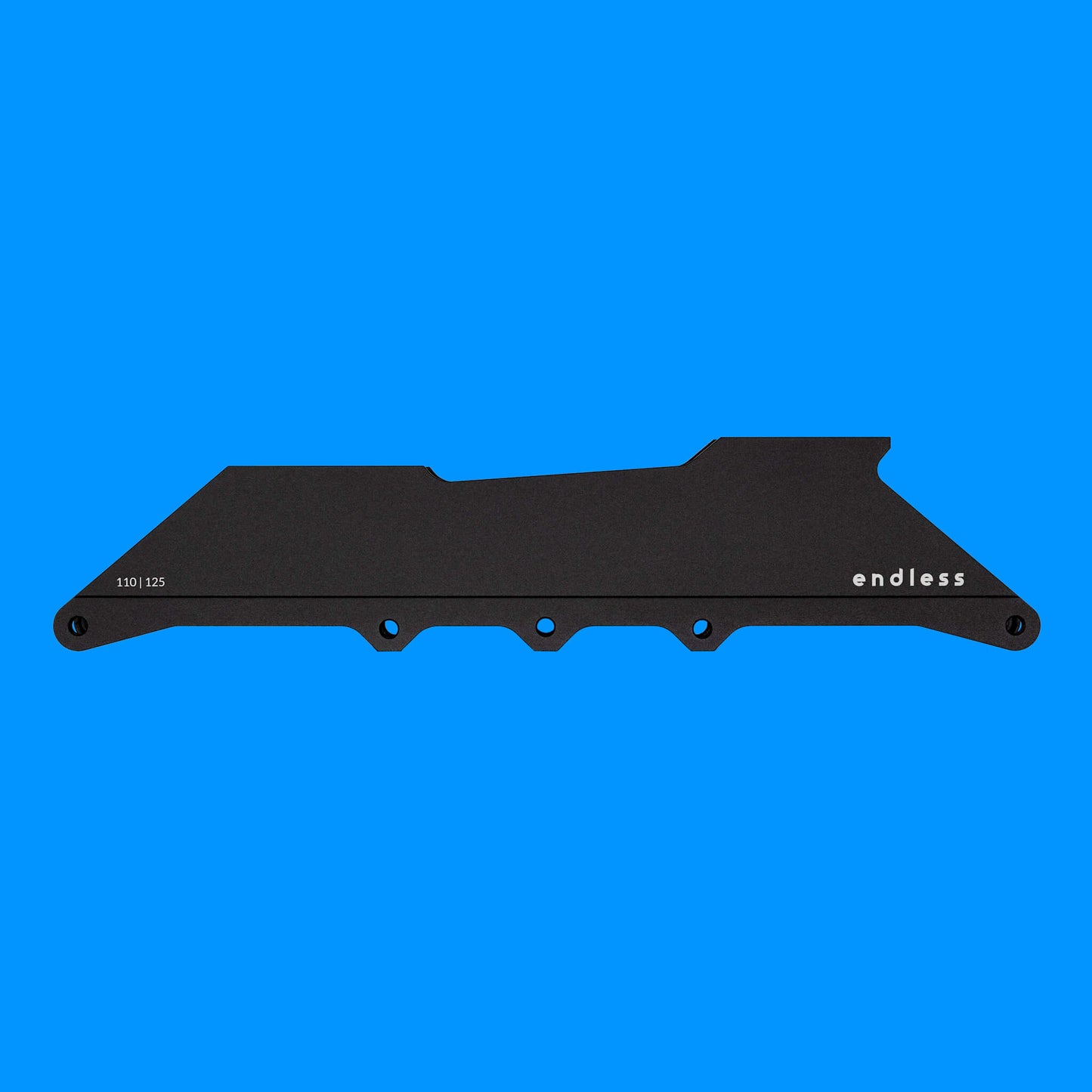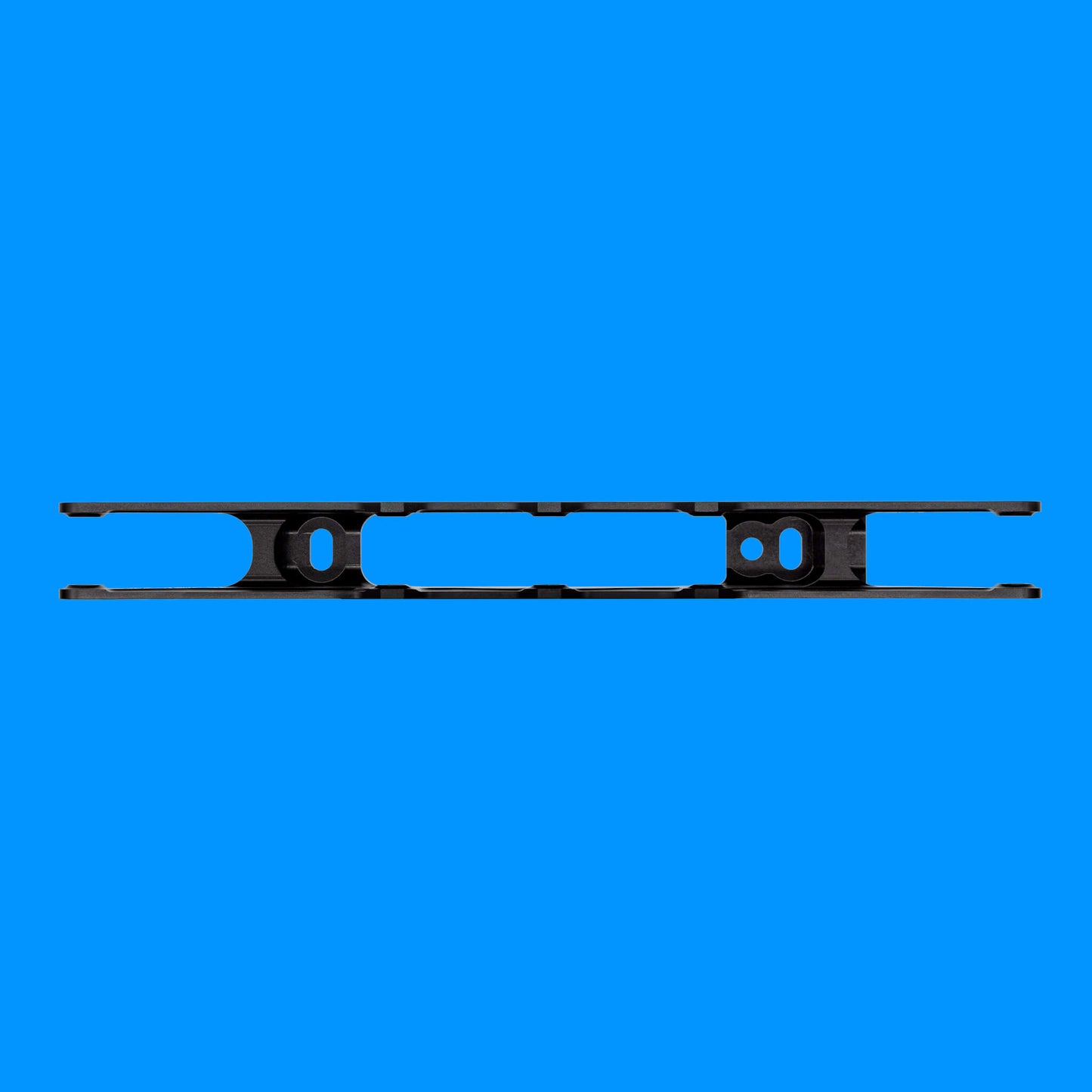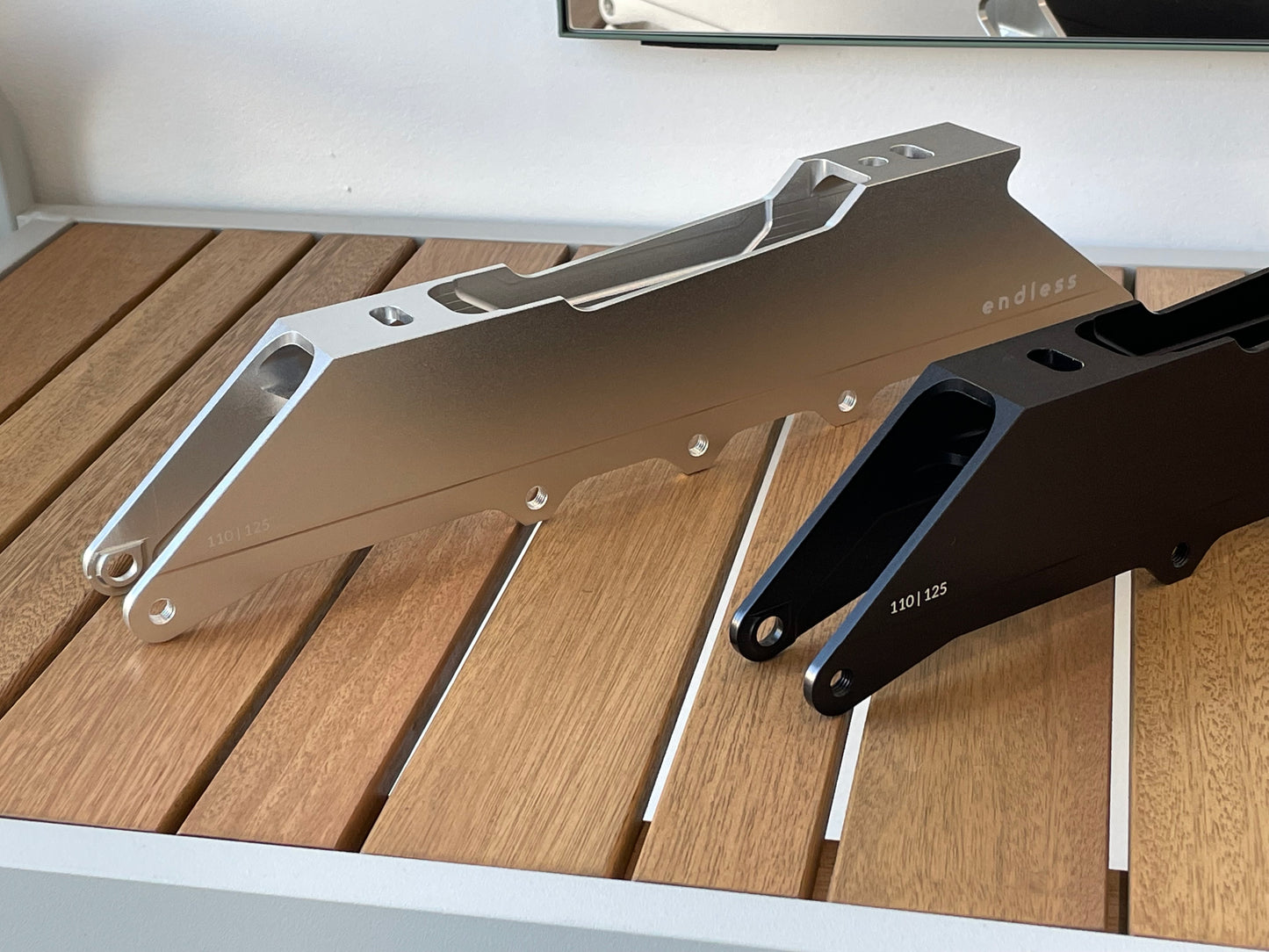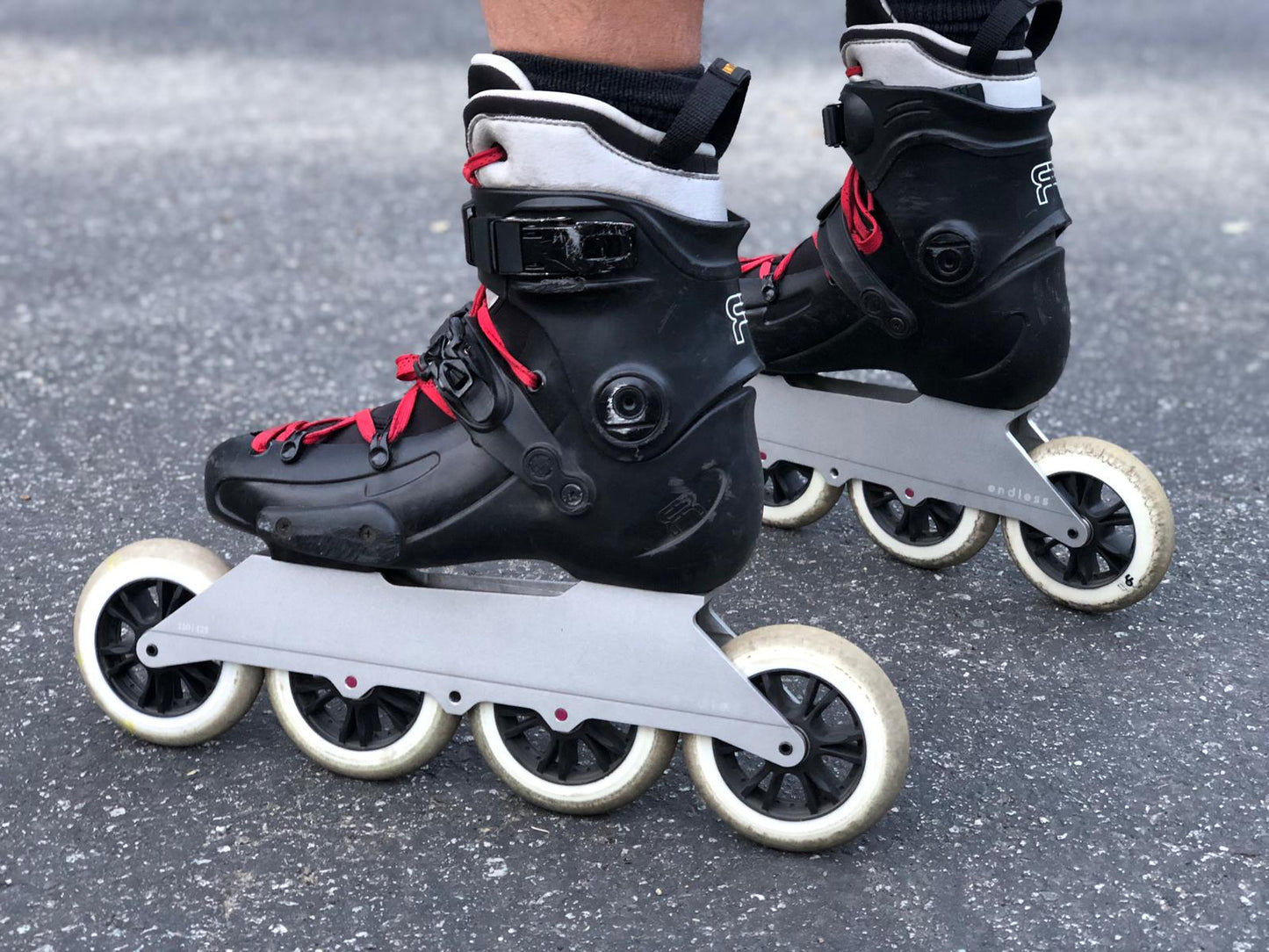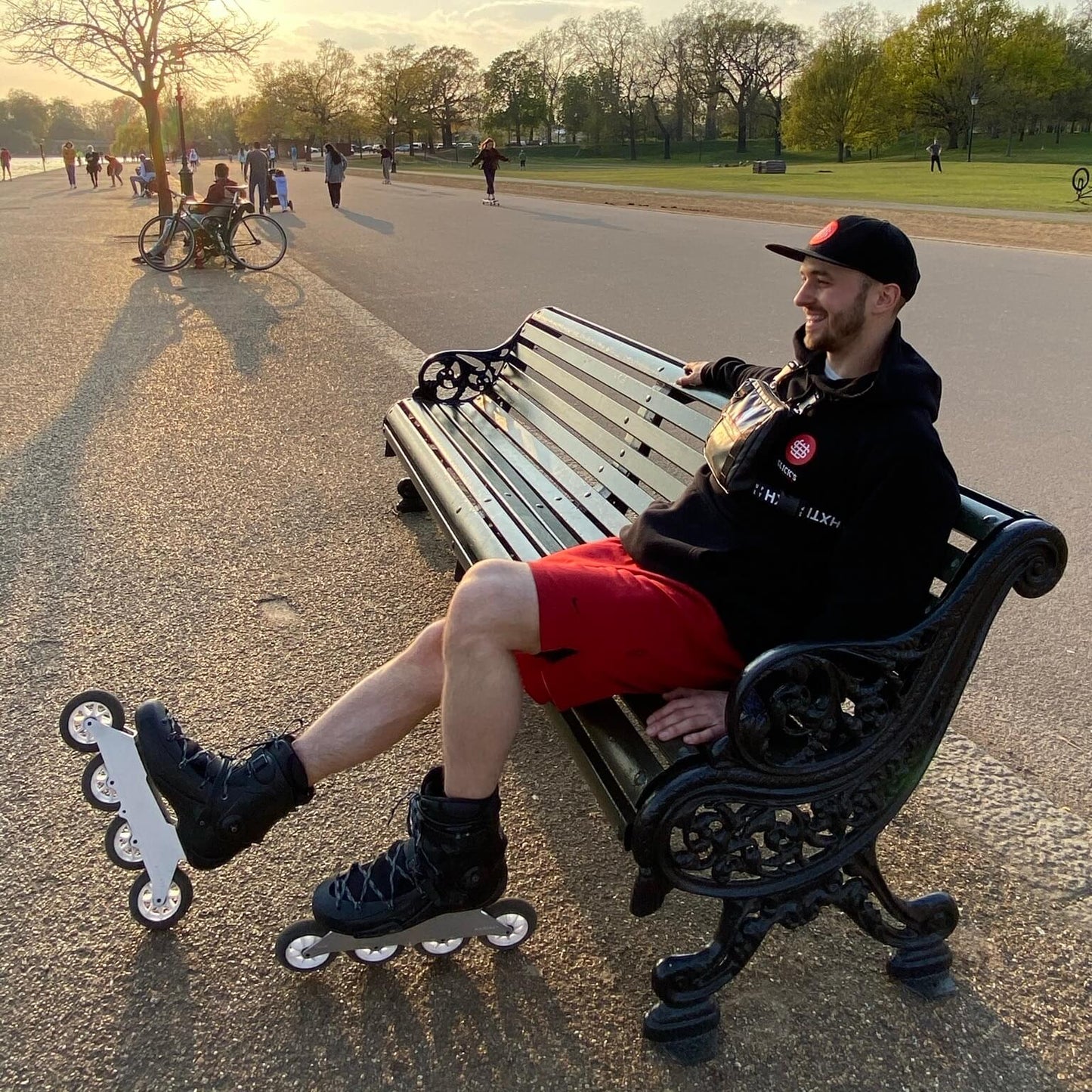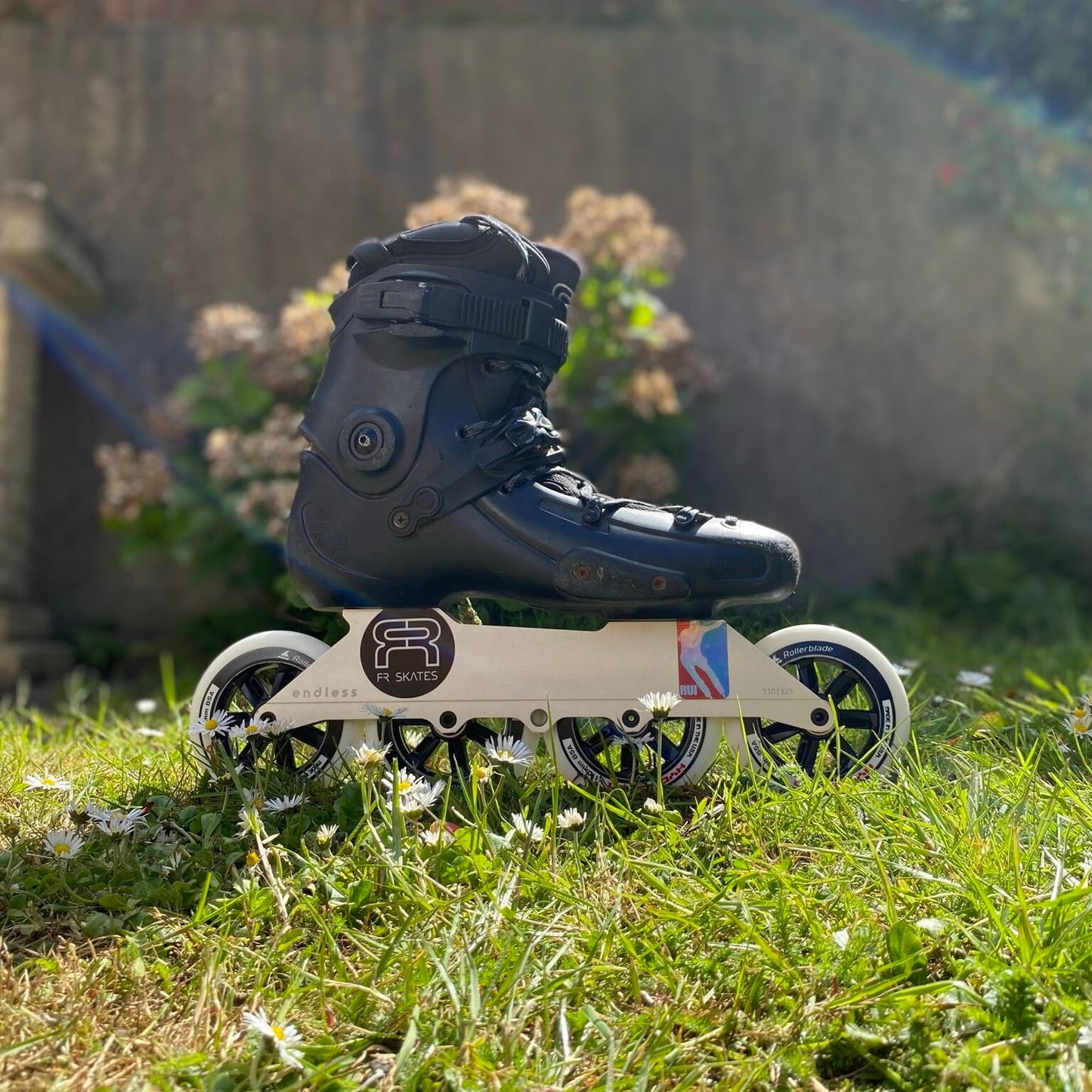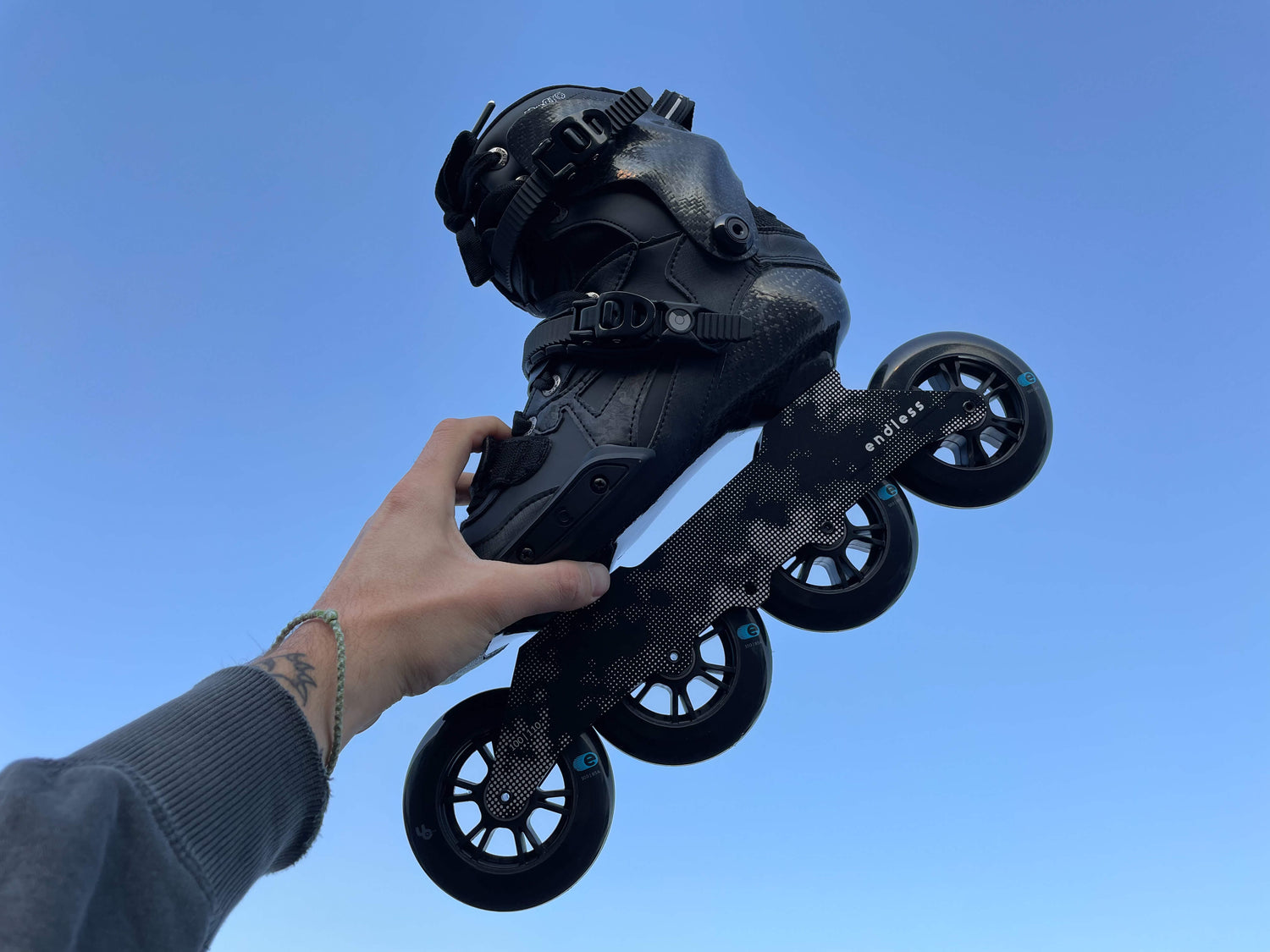 Need help choosing a frame?
Take our frame quiz to get a personalized recommendation based on your foot size, skill level, and skating style and preferences.
FRAME QUIZ
What sets Endless apart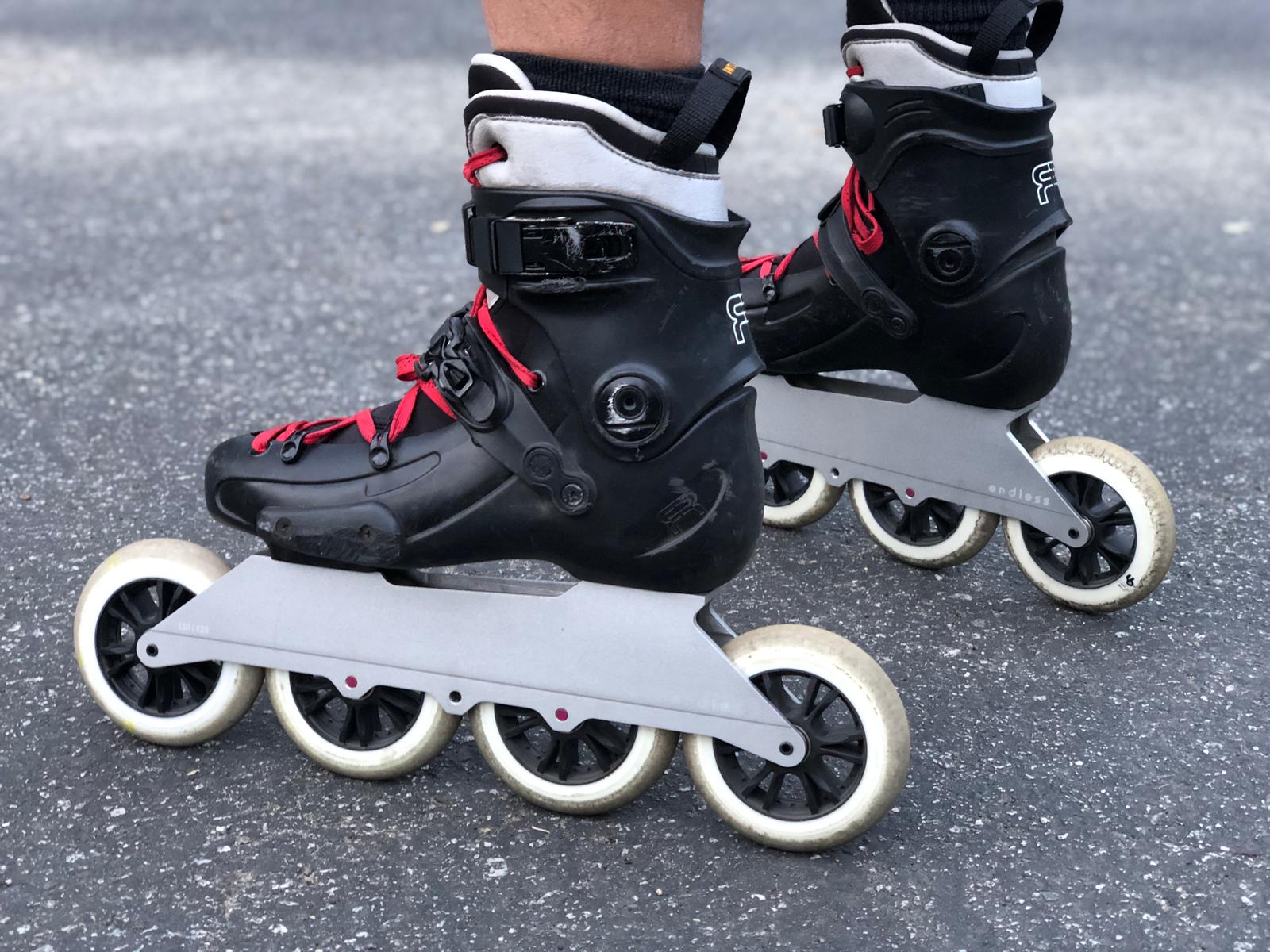 Dual setup design

We have engineered our frames to be not only lightweight and strong, but also to be versatile and fun. Multiple setup options allow one frame to suit a variety of skating styles. Go from a maneuverable and zippy 4-wheel setup to a 3-wheel triskate cruiser in minutes.

Balanced Rocker

The 4-wheel setups on each frame feature our unique recipe of rockering that balances front-to-back stability with responsiveness and maneuverability. This greatly enhances what we like to call the "Whee!" Factor. And all those swively tricks you've been wanting to learn.

Flat Triskate

The 3-wheel setups on each frame are configured flat for the best power transfer when cruising down a trail or commuting across the city. We have minimized the ride height for maximum stability. The triskate experience doesn't get more solid than this.
For all skill levels

Our frames are meant for skaters of all skill levels.  They immediately provide a more satisfying blading experience, especially for beginners, due to the low ride height, and ease of manueverability.  Turning becomes more intuitive.
Vivid color

All of our frames are available in multiple colorways to complement your personal style and make your setup pop. Every year we announce new high end custom color finishes.
Brake compatible

We want bladers of all skill levels to enjoy our frames so we designed them to be compatible with readily available Powerslide Urban Brakes.
Time tested design

The best designs require time. We meticulously refine our frame designs through a deliberate and long-term testing process involving fellow skaters across the globe. We iterate multiple times to optimize the performance and deliver an experience thoroughly vetted by experienced skaters. We don't believe in cutting corners or rushing products to market.
Made to last

Our frames are precision machined from 6061-T6.  The smooth outer surfaces cleanly cloak an internal structural design that optimizes strength and weight.  Wall thicknesses of 4 mm provide stiffness and durability.  The parts are bead blasted, anodized, and laser marked to achieve a beautiful finish that will last.
Have questions?
Have a question?

Check out our FAQ and Help page. We have an extensive knowledge base of help articles. You can also click the help icon in the lower right hand corner of this page.

Help page

Shipping info

New orders will ship in 3-5 business days when in stock. If this item is out of stock in our store then please check with our dealers who often have them available.

Our dealers

Pre-order info

If this product is allowing pre-orders, visit the link below to learn more about our pre-order process. We don't require any payment up front and only take payment when shipping.

Pre-order process