Arc Silver Rocker Axles (4-pack)
Sale price Price $12.00 Regular price
Silver rocker axles (4-pack) for Endless Arc frames.  These axles will allow you to acheive two levels of enhanced rocker with the Endless Arc 5-wheel frames when using 80 mm wheels.  These silver axles are different than the black ones included with Arc frame sets.
Diameter: 8 mm
Llength: 34.8 mm
M5 female threads - mates with Endless Axle Screws (included with Arc Frames)
Material: steel, silver chrome plated
4 pieces
Customer Reviews
100
reviewers would recommend this product
Write a Review
03/20/2023
Marc S.

United States
I recommend this product
I am really impressed
These Arc frames are smooth-flowing, stable, and yet surprisingly maneuverable. I purchased them for wizard skating on my Seba Igor boots, and was very pleasantly surprised to see that their length was not excessive and that I could also do crossover turns and even some of my more complex slalom moves on them. Most importantly, these Arc frames are tons of fun and feel safer when working on mastering complex moves. They also work well on pump tracks. They are surprisingly light weight for having five wheels. No squeaking noises from the reversible double axles. The workmanship on these frames is exquisite, which makes me proud to own them. I will purchase another pair for my PS Trinity boots when these Arc frames becomes available to fit them.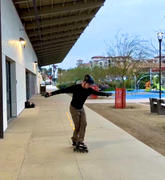 03/10/2023
Jose M.

United States
I recommend this product
Adjustability/Refinement
A great add to your Arc Frames. The Silver Axles allow you to refine and adjust the Rocker to your taste with 2 additional levels. It's the biggest advantage to other frames. "Refinement"!!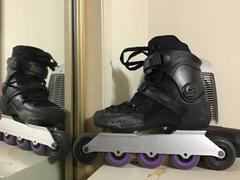 02/04/2023
Patrick H.

United States
I recommend this product
So much fun!
I love my new endless frames. This year I decided to seriously up my skating game and get more creative with wizard skating. I bought some new, high end Seba Skates that I was really enjoying, but I could tell that the flat frames were limiting my creativity. So after some investigation, I decided to replace my stock frames for the five wheel Endless progressive rocker frames. I had great customer service from Andrew, who answered all my questions and made sure I got exactly what I was looking for. I couldn't be happier. My old tricks are much easier and I'm learning lots of new tricks that were out of reach with my old frames. And the new frames are solid, beautifully designed and machined and they look super cool.