Endless 100 RB Frame
Sale price Price $209.00 Regular price
The Endless 100 RB Frame is a precision machined, multi-setup frame designed specifically for the Rollerblade RB/Twister series of urban skates, Adapt Hyperskates, and other 165 mm compatible skates that may have issues centering 3rd party frames.  The Endless 100 RB features longitudinal mounting slots for dialing in front-back frame alignment.
New orders will ship in 3-5 business days when in stock.  If out of stock in our store please check with our dealers who often have them available.
If you typically adjust your frames laterally on your boot to compensate for pronantion issues or to optimize toe-in, then we advise against ordering this frame.  The longitundinal slots provide minimal lateral adjustment.
Features
Multiple setups: 4x100, 3x110*
Balanced Rocker for 4-wheel setup
Flat configuration for 3x110 setup

*Many boots will be able to fit 3x125, including FR Skates FR1/2/3/X, Rollerblade RB80/110/Pro/Cruiser, and Rollerblade Twister Edge
Compatible with good quality bullet profile wheels only

Recommended for Intermediate and Advanced skill levels
Mounting: 165 mm

Longitudinal mounting slots allow for optimized front-back alignment with Rollerblade and Adapt skates
For centered mounting on FR/Seba boots and Micro MT Plus: push frame forward (bolt sits towards rear of slot)
For centered mounting on Rollerblade or Adapt boots: push frame backwards (bolt sits towards front of slot)

Wheelbase: 303 mm
Brake compatibility (not recommended for use with brake):

4x100: Powerslide Urban Brake Size L (908058/3)

3x110: none

One frame set includes: 2 frames and 8 axles
CNC-machined from 6061-T6 aluminum
Weight = 341 grams, without spacers and axles
Have a question?  Check the FAQ.
Customer Reviews
01/09/2022
Daniel D.

United States
I recommend this product
Love it!
Love it! Have not used the 3x110 but I imagine it performs as advertised. Would like to see a version that mimicks the Wizard UFS mounting.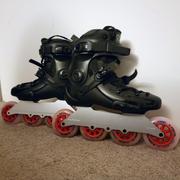 12/10/2021
JH N.

Singapore
I recommend this product
A super fun frame
Great stability, great for city cruising. I fall way less. The subtle rocker is excellent and greatly aids in maneuverability.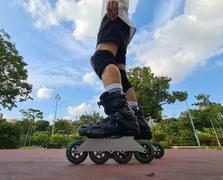 11/17/2021
Anonymous

Japan
I recommend this product
Fast and responsive
Customer from southwestern Japan here, I recently ordered this frames to speed over rough pavement, which they successfully do. Once getting used to the rockering, you get even more speed! Power stop are great with these. Very responsive and stable and my favorite thing is the sound of skating on this frames.